Description
Spectrum Celeb Gold Membership- 2023
Membership has it's perks! Become a charter member today!
Save 5% on all 2023 Event Tickets excluding Event Sponsorships.
Access to all Ticket Presales and new
Exclusive Member Only Events in 2023!
Membership Terms & Conditions:
Individuals who purchase a membership agree to the following terms and conditions listed below.
1.) Member Benefits
As part of your "Spectrum Celeb Gold Membership-2023" you will receive the following benefits:
A 5% Discount on all 2023 Event Tickets excluding Sponsorships. Discount is limited to one ticket for each individual Virtual Event and two tickets for each in-person event. Discount will automatically be applied when member logs into our ticketing website (SimpleTix) using their registered email address.
Access to ticket pre-sales for all Virtual and In-Person Fan Events excluding Sponsorships.
Access to Exclusive Member only Events.
Additional benefits maybe announced at a later date.
2.) Membership Fee
The total cost for "Spectrum Celeb Gold Membership-2023" is $25. The membership will be active for the calendar year of 2023. The fee for this membership does not auto renew. The membership fee is non-refundable.
3.) Restrictions
The Member agrees they will not:
Share their login information with non-members.
Re-Share any information that is provided to members only.
4.) Liability
The Member will not hold Spectrum Celebrity Events, LLC liable for any tangible or intangible damages that may occur while participating in the membership program.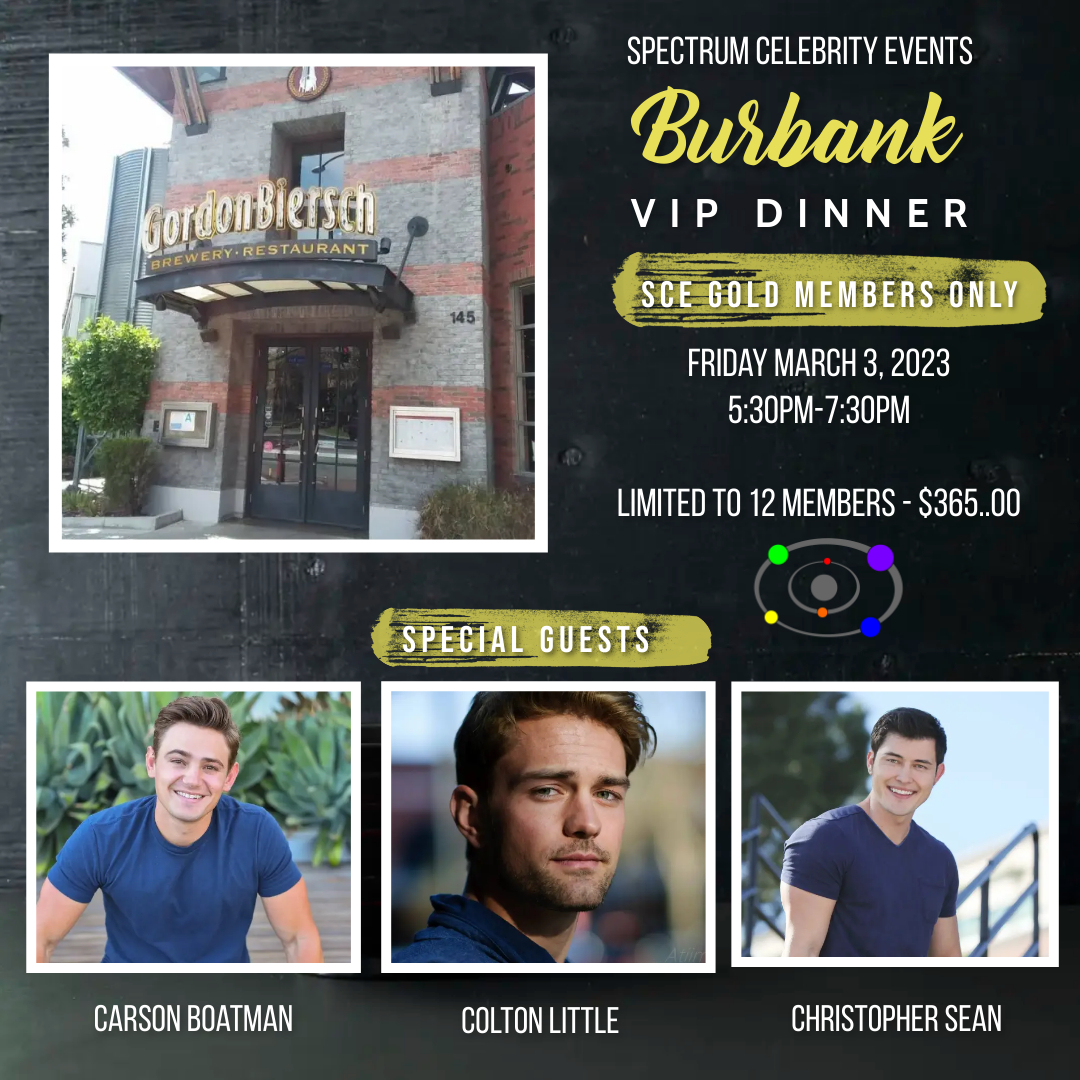 Spectrum Celebrity Events, LLC
Fan Events supporting the LGBTQ Community.